WordPress and its Page Builder
WordPress, after all, has long been the most popular platform for creating websites. But what many people don't realize is the amount of page builders that are available to make it even easier and more efficient.
Page builders are a kind of drag-and-drop tool that lets you conjure up layouts for your WordPress site without any programming knowledge. So just by dragging and dropping elements like text boxes, images, buttons and so on. With this, pretty much anyone can create halfway functional websites with a bit of familiarization. Something we recommend in the private sector, but would strongly advise against in the professional sector.
Ranking of the most popular WordPress page builders by market share (as of 11/05/2023)
Okay, enough basics – now for the exciting part: the ranking of the most popular page builders by their market shares.
| Page Builder | Market share |
| --- | --- |
| Gutenberg | about 65,6 % |
| Elementor | 20,5 % |
| WPBakery | 12,5 % |
| Beaver Builder | 1,1 % |
| Oxygen | 0,3 % |
Source: https://w3techs.com/technologies/details/cm-wordpress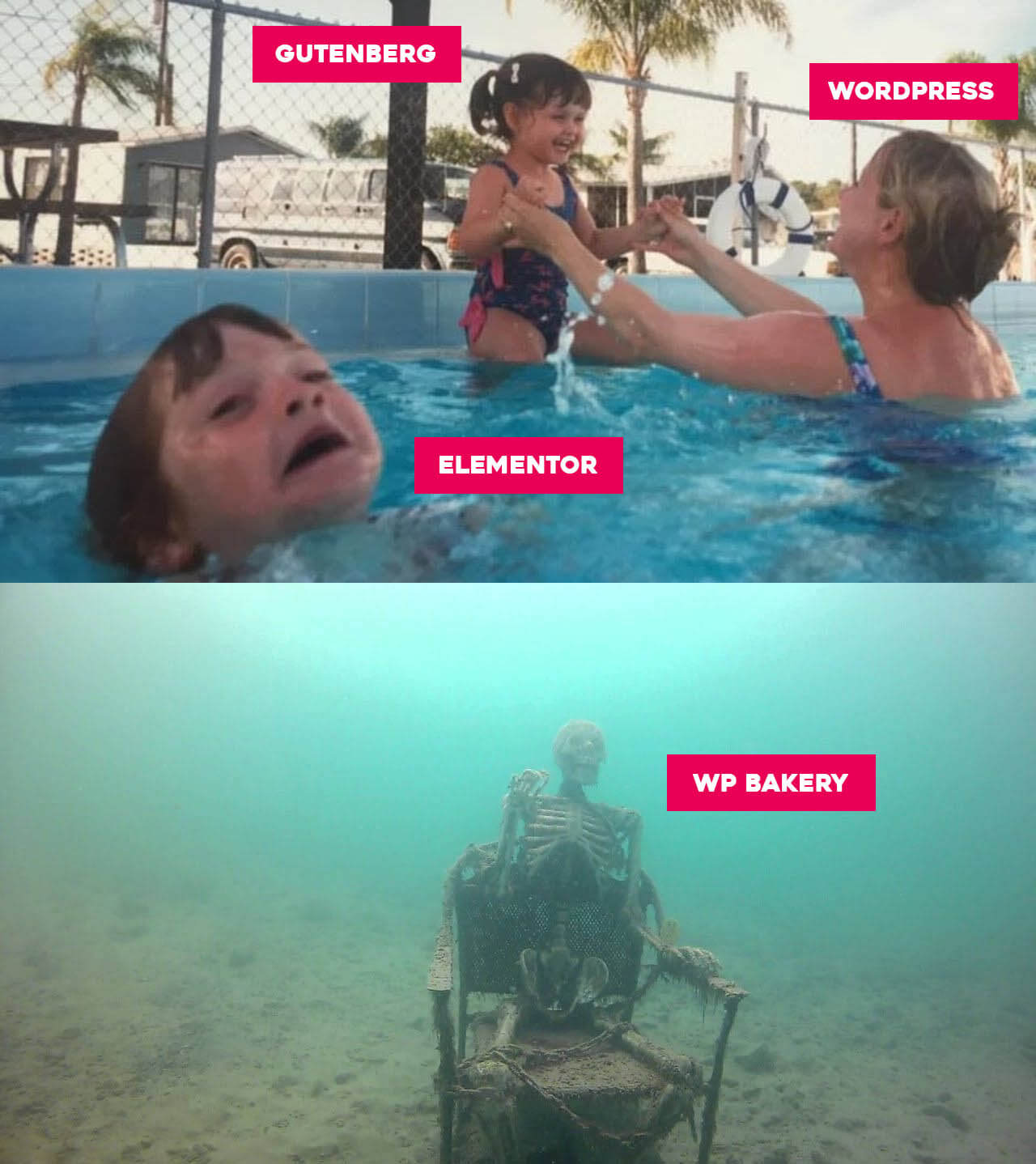 No. 1: Gutenberg (~ 65,6 %)
By a huge margin at the top of the "most popular" page builders is WordPress' in-house page builder "Gutenberg". Why we put "popular" in quotes? For that, you just need to take a quick look at Gutenberg's ratings. With an Approval Rate of 42% or 2.1 out of 5 stars (as of 11/05/2023), this plugin might be one of the most hated WordPress plugins of all time. However, since it is present in every WordPress installation by default, it will probably remain the undisputed number 1 of the most used page builders for the time being.
No. 2: Elementor (20.5%)
The favorite of many users. Elementor has secured by far the largest market share among page builders that don't land on your web space with the WordPress installation. With its now very large community, great features and constant updates, it has captured the hearts of many WordPress enthusiasts.
No. 3: WPBakery Page Builder (12,5 %)
WPBakery Page Builder has been in the game for quite some time and still has a considerable user base. It has a lot of features and lets you design your website the way you want it. Still our favorite!
No. 4: Beaver Builder (1.1%)
On the 4th place we have Beaver Builder. This page builder is known for its stability and speed. Many swear by its performance.
No. 5: Oxygen (0,3 %)
In 5th place, many would have expected Divi, but no, it's Oxygen with a market share of 0.3%, which it takes with its clean code, fast speed and good support.
Conclusion
These are the top 5 that dominate the market, but there are of course many more great page builders out there that may not be as well known, but still have their loyal users.
Some may wonder why page builders are so popular. Well, they offer a lot of flexibility and make it easy to create responsive designs without any technical knowledge. Besides, their developers regularly update them and add new features, so they always stay up-to-date.
Well, curious now? If you're currently working on a WordPress site or want to create a new one, it's definitely worth trying out one of these page builders. They often offer free versions that you can do a lot with.